I started recording a new video series covering How Data moves through the Internet. The intent of this first set of videos is to serve as the first Module of a new course I'm developing discussing Networking Fundamentals.
The full course will give anyone looking to start a career in Networking the foundation they need to pass job interviews and become successful engineers.
Moreover, this course will also give anyone in any sort of IT role insight into whatever it is "the networking folks" are doing every day. This type of cross-discipline training will propel you further in whatever Tech career you are pursuing.
How Data moves through the Internet
Module 1 of this course will be available for free to everyone on YouTube and will teach anyone the very core of Networking: How Data moves through the Internet.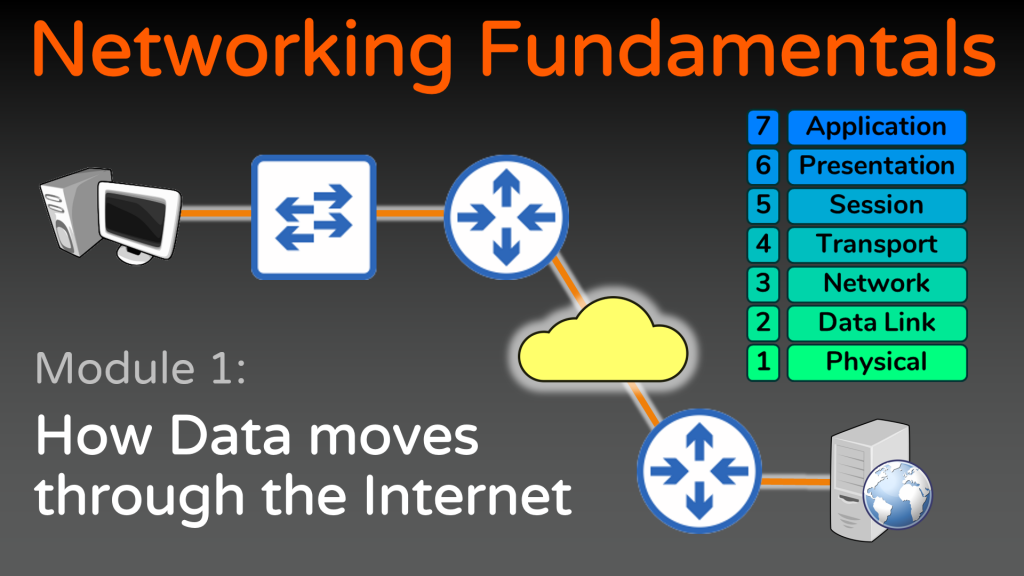 The individual videos for Module 1 are available here:
Lesson 5 – Everything Routers do to facilitate communication
Lesson 6 – Packet Traveling — Host, Switch, Router, Switch, Host
Lesson 7 – Packet Traveling — Host, Switch, Router, Switch, Router, Switch Host
Videos are in still in development.
This post will be updated as new videos are released
Networking Fundamentals – Course Outline
Below is the outline for the full Networking Fundamentals course. Keep in mind, the topics are still being scoped, so this outline is subject to change.
Module 1 – How Data moves through the Internet
Module 2 – IP Addresses and Subnetting
Module 3 – Host Configuration and Verification

Windows
Linux
Windows Server

Module 4 – TCP and UDP
Module 5 – VLANs
Module 6 – NAT
Module 7 – Address Resolution Protocol
Module 8 – Troubleshooting Tools

Ping
Traceroute
TCP Traceroute
MTR
PathPing
iperf
Netstat
Nmap
Wireshark
TCP Dump

Module 9 – Network Protocols

DHCP
DNS
HTTP
HTTPS / SSL / TLS
SSH

Module 10 – IPv6
Module 11 – Network Designs
Module 12 – Cloud Networking
When complete, this course will be the "must watch" course for anyone looking to get into Networking or understand how Networking works.
Got a suggestion for a topic that would contribute to this goal? Suggest it in the comments below!